Items filtered by date: September 2020
Tuesday, 22 September 2020 00:00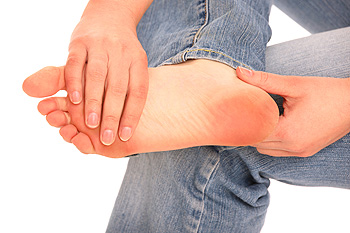 When the joints or ligaments surrounding the cuboid bone in your foot are injured or torn, it's possible you may develop cuboid syndrome. Certain forms of arthritis may increase your chances of getting cuboid syndrome, such as osteoarthritis and gout. Common risk factors for this condition may include obesity, wearing footwear that is too tight or lacks support, not stretching before working out, partaking in physical activity on uneven surfaces, and a lack of rest between physical activities. Pain on the lateral side of your foot is a common indicator of cuboid syndrome, along with tenderness and redness towards that area. If you believe you have developed cuboid syndrome, please consult with a podiatrist for advice on treatment options.
Cuboid syndrome, also known as cuboid subluxation, occurs when the joints and ligaments near the cuboid bone in the foot become torn. If you have cuboid syndrome, consult with one of our podiatrists from Manhattan Footcare. Our doctors will assess your condition and provide you with quality foot and ankle treatment.
Cuboid syndrome is a common cause of lateral foot pain, which is pain on the outside of the foot. The condition may happen suddenly due to an ankle sprain, or it may develop slowly overtime from repetitive tension through the bone and surrounding structures.
Causes
The most common causes of cuboid syndrome include:
Injury – The most common cause of this ailment is an ankle sprain.
Repetitive Strain – Tension placed through the peroneus longus muscle from repetitive activities such as jumping and running may cause excessive traction on the bone causing it to sublux.
Altered Foot Biomechanics – Most people suffering from cuboid subluxation have flat feet.
Symptoms
A common symptom of cuboid syndrome is pain along the outside of the foot which can be felt in the ankle and toes. This pain may create walking difficulties and may cause those with the condition to walk with a limp.
Diagnosis
Diagnosis of cuboid syndrome is often difficult, and it is often misdiagnosed. X-rays, MRIs and CT scans often fail to properly show the cuboid subluxation. Although there isn't a specific test used to diagnose cuboid syndrome, your podiatrist will usually check if pain is felt while pressing firmly on the cuboid bone of your foot.
Treatment
Just as the range of causes varies widely, so do treatments. Some more common treatments are ice therapy, rest, exercise, taping, and orthotics.
If you have any questions, please feel free to contact our offices located in Manhattan and Brooklyn, NY . We offer the newest diagnostic and treatment technologies for all your foot care needs.
Read more about Cuboid Syndrome
Monday, 14 September 2020 00:00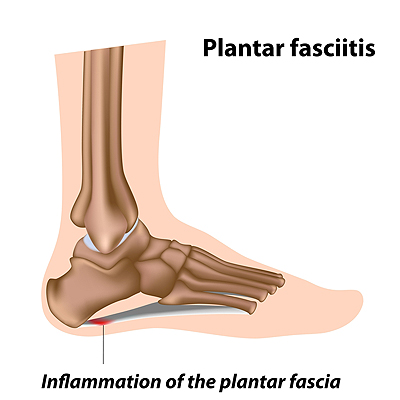 Do you have heel pain? Plantar fasciitis, the inflammation of the ligament that extends from the heel to the toes, may be the cause. A podiatrist can typically diagnose this condition by taking a medical history and examining your foot. There are many different treatments for plantar fasciitis. Treatments that can be done at home include stretching exercises for the feet, avoiding going barefoot, wearing supportive shoes, icing the foot, and limiting extended physical activities. The doctor might prescribe other treatments as well, including padding, taping, or strapping the foot to reduce strain on the plantar fascia, wearing orthotic devices in your shoes, injecting a corticosteroid into the foot to reduce pain and inflammation, wearing a removable walking cast or night splint, or physical therapy. In rare cases, surgery may be required. Consult with a podiatrist to learn which treatment is right for you.
Plantar fasciitis can be very painful and inconvenient. If you are experiencing heel pain or symptoms of plantar fasciitis, contact one of our podiatrists from Manhattan Footcare. Our doctors can provide the care you need to keep you pain-free and on your feet.
What Is Plantar Fasciitis?
Plantar fasciitis is the inflammation of the thick band of tissue that runs along the bottom of your foot, known as the plantar fascia, and causes mild to severe heel pain.
What Causes Plantar Fasciitis?
Excessive running
Non-supportive shoes
Overpronation
Repeated stretching and tearing of the plantar fascia
How Can It Be Treated?
Conservative measures – anti-inflammatories, ice packs, stretching exercises, physical therapy, orthotic devices
Shockwave therapy – sound waves are sent to the affected area to facilitate healing and are usually used for chronic cases of plantar fasciitis
Surgery – usually only used as a last resort when all else fails. The plantar fascia can be surgically detached from the heel
While very treatable, plantar fasciitis is definitely not something that should be ignored. Especially in severe cases, speaking to your doctor right away is highly recommended to avoid complications and severe heel pain. Your podiatrist can work with you to provide the appropriate treatment options tailored to your condition.
If you have any questions please feel free to contact our offices located in Manhattan and Brooklyn, NY . We offer the newest diagnostic and treatment technologies for all your foot and ankle needs.
Read more about Plantar Fasciitis