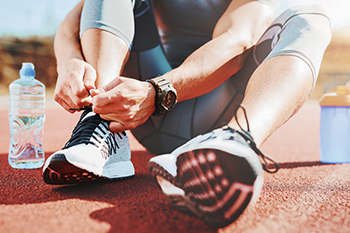 Foot pain in cycling is rarely discussed but it is more common than might be imagined. A main cause of foot pain is ill-fitting footwear. Shoes that are too tight or do not have enough room in the toe box will cause pain. Socks that are too thick and take up too much space in the shoe, as well as bulkier orthotics built for walking or standing, can cramp toes, restricting blood flow and nerve conduction in the feet. Another common cause of foot pain in cycling is when cleats are too far forward. They can put more pressure on the forefoot, causing the foot muscles to do more work to stabilize the foot. This forward position can also allow the toes to lean down, which can cause the foot to slide down in the shoe and jam up against the front of the shoe. With the toes pointing down, the quadriceps will also be activated more than the glutes and hip extensors. This can upset the balance of these muscle groups and the weight distribution between the hips and feet. Moving the cleat further back can allow these muscles to relax. If you are a cyclist experiencing foot pain, try different shoes and move the cleat back to relieve discomfort. If these simple fixes do not work, consult with a podiatrist who is in the best position to diagnose any foot problems and treat them.
Sports related foot and ankle injuries require proper treatment before players can go back to their regular routines. For more information, contact one of our podiatrists of Manhattan Footcare. Our doctors can provide the care you need to keep you pain-free and on your feet.
Sports Related Foot and Ankle Injuries
Foot and ankle injuries are a common occurrence when it comes to athletes of any sport. While many athletes dismiss the initial aches and pains, the truth is that ignoring potential foot and ankle injuries can lead to serious problems. As athletes continue to place pressure and strain the area further, a mild injury can turn into something as serious as a rupture and may lead to a permanent disability. There are many factors that contribute to sports related foot and ankle injuries, which include failure to warm up properly, not providing support or wearing bad footwear. Common injuries and conditions athletes face, including:
Plantar Fasciitis
Plantar Fasciosis
Achilles Tendinitis
Achilles Tendon Rupture
Ankle Sprains
Sports related injuries are commonly treated using the RICE method. This includes rest, applying ice to the injured area, compression and elevating the ankle. More serious sprains and injuries may require surgery, which could include arthroscopic and reconstructive surgery. Rehabilitation and therapy may also be required in order to get any recovering athlete to become fully functional again. Any unusual aches and pains an athlete sustains must be evaluated by a licensed, reputable medical professional.
If you have any questions please feel free to contact our offices located in Manhattan and Brooklyn, NY . We offer the newest diagnostic and treatment technologies for all your foot and ankle needs.
Read more about Sports Related Foot And Ankle Injuries