Radial Shockwave Therapy
Zimmer Short - enPuls Podiatry 2019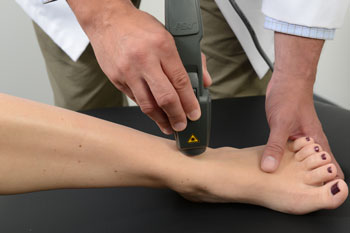 As an alternative treatment technique for chronic soft tissue pain, Radial Shockwave Therapy gives podiatrists a new and innovative method for treating heel pain. Our practice is excited to offer this new technology to treat patients suffering from various forms of heel pain.
Most advanced non-invasive and highly effective treatment
Decreased treatment time and increased efficiency
Minimized pain and better outcomes
Treatable Foot Conditions
Plantar fasciitis
Achilles tendonitis
Other forms of foot pain
Radial Pulse Therapy Explained
Application involves the use of a hand piece containing an accelerated projectile to deliver energy into target tissue. Upon delivery to the target tissue, the energy then creates radial pulses to treat muscle pain and increase circulation in the area.
The treatment itself is performed by your podiatrist. Your podiatrist applies the applicator to the area and administers the energy by moving the applicator over the area in a slow and circular motion.
Benefits of Radial Shockwave Therapy
Radial Shockwave Therapy has a proven success rate that is equal to or greater than that of traditional treatment methods, including surgery, without the risks, complications, and lengthy recovery periods. It is a non-invasive method with no incisions and no risk of infection.
Patients treated with Radial Shockwave Therapy may be active immediately and resume their normal routine the same day. Many patients find a significant and immediate reduction in their pain. Some patients will feel results gradually after each treatment.